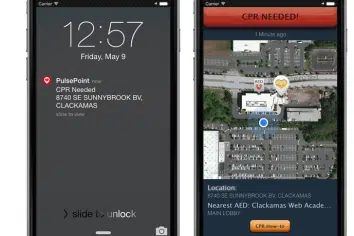 The first province-wide smartphone app has launched, that is aimed at turning bystanders into potential lifesavers of heart attack victims.
Neil Lilley, Executive Director for BC Emergency Health Services says, the new 'PulsePoint' app aims to improve the cardiac arrest survival rate in British Columbia.
"It's an app which downloads on your smart phone, and then links into our computer system here at BCHES, and will alert bystanders or members of the public of CPR required events."
Lilley says the cardiac arrest survival rate in BC is sitting at about 10%, while the bystander CPR rate is at 25%.
"The other municipalities across the States and other areas in the U.K, which are using this app, have increased the bystander CPR rate to around 50-60%, which is a massive increase as to where we are."
Lilley adds, in order for the app to be successful in saving lives, it needs people to actually download it, and use it.