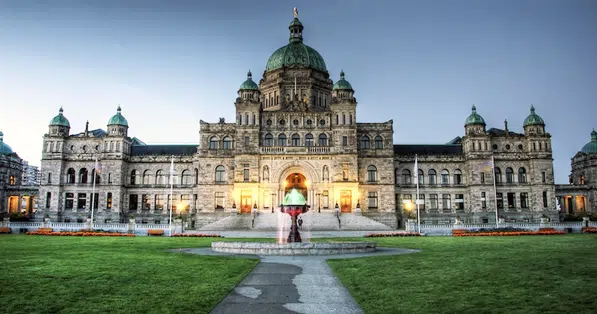 The B.C. NDP has released a balanced budget with a focus on housing, childcare, and healthcare.
Effective tomorrow, a tax on foreign homebuyers increases from 15 to 20 percent. The government is also introducing a new speculation tax on homeowners who don't pay income taxes in B.C.
Finance Minister Carole James says the tax rate will be 0.5 percent of taxable assessed value for the 2018 year and then increase to 2 percent.
James also announcing all MSP premiums will be eliminated, effective January 1st, 2020.
A new tax will be brought in to cover the cost. Next January, companies will start paying a health tax.
"The tax will be levied on medium to large businesses in B.C. that are benefiting the most from the elimination of MSP."
Kris Sims, the B.C. Director of the Canadian Taxpayers Federation says she is happy to see a balanced budget but is not happy to see all this new taxation.
"My main concern coming out of today's budget is to see this brand new health care tax being thrown on to the backs of B.C. employers. We were really happy to see the MSP cut by 50% and to have them committing to getting rid of it altogether. But now we see that they are simply shifting the tax over on to employers. It is going to cost them an awful lot of money."
Independent Contractors and Business Association spokesperson Jordan Bateman is also concerned with the introduction of more taxation.
"A lot more taxes $5.5 billion more in taxation. As someone who worked for so many years to kill the MSP this zombie payroll tax that will actually take more money over the next three years than cutting the MSP tax will save us. I am kind of flummoxed as to how that fits into their affordability narrative."
The Kamloops based co-chair of the BC Health Coalition calls the B.C. NDP's first full budget good news for health care.
Rick Turner says it's a very positive move that the government will eliminate MSP premiums by 2020, saving individuals up to $900 a year, and families around $1,800 a year. He adds, there's also good news for seniors.
"In old folks homes, staffing will be improved and that will mean better care for seniors, many of whom are often put on drugs that pacify them rather than having the place deal with their problems."
On top of that, Turner says, another highlight is the government improving B.C.'s Fair PharmaCare program to eliminate deductibles for families with annual net incomes below $30,000.
Kamloops South Thompson MLA Todd Stone calls the spending increases breathtaking and an assault on job creation in B.C. As for capital for School District 73, Stone says there's no mention of it in the budget.
"Peter Milobar and I both poured through the budget documents and all the supporting documents and there's no mention whatsoever of School District 73. We can't find it in the capital plan, and as someone who has sat at the cabinet table and knows how these processes work that this government has no intentions of flowing capital to the Kamloops School District."
Kamloops North Thompson MLA Peter Milobar echoes those statements.
"It's probably problematic not to see any major capital spending for the school district but we'll certainly keep pressing the education minister and see if we can get some of those projects funded. You know, it's unfortunately jumped in at eleventh hour and decided to fully fund the Pattullo Bridge. They could have built probably around another 50 schools around the province for the cost of that bridge project."
Irene Lanzinger, the president of the BC Federation of Labour says the new affordable child-care benefit that will reduce costs by up to $1,250 per month per child is very positive news.
"We live in a very expensive province. Childcare costs are enormous and so a plan to improve childcare, to make it more accessible, to make it more affordable, to talk about increased licencing and look at the quality of childcare because we all care about the safety of kids as well, I think those are very good steps."
BCTF President Glen Hansman applauds the budget saying funding is there for class size and composition, student enrollment, and school infrastructure. Hansman says funding for housing and daycare will help address teacher shortages.
"If I was a new teacher, especially a younger one, in Ontario or elsewhere the fact that there is going to be a childcare program brought in might sort of sway me towards coming here. Knowing that minister James is announcing some pretty bold and ambitious changes to deal with speculation, housing, and rent. Whether it is Vancouver, or Nelson, and lots of other parts of the province it is hard to find a place to rent."
He says what he is not seeing are any details about specifics on the operational funding side to address things like wait lists for special needs students.
The president of the Kamloops Chamber of Commerce Paul Ross dosen't like the payroll taxes.
"Of course MSP premiums are disappearing. We all know money has got to come from somewhere. It looks like it's coming from a payroll tax on the back of business. We've just seen an increase in minimum wage, we've seen a slight increase in the corporate tax rate and now we're going to have a payroll tax so it's definitely going to be struggling for businesses out there and looking at their bottoms lines and making sure they can stay available there to hire and improve their business."
The budget put forward by Finance Minister Carole James includes historic spending on child care and affordable housing, and predicts a surplus of 219 million dollars for the fiscal year.