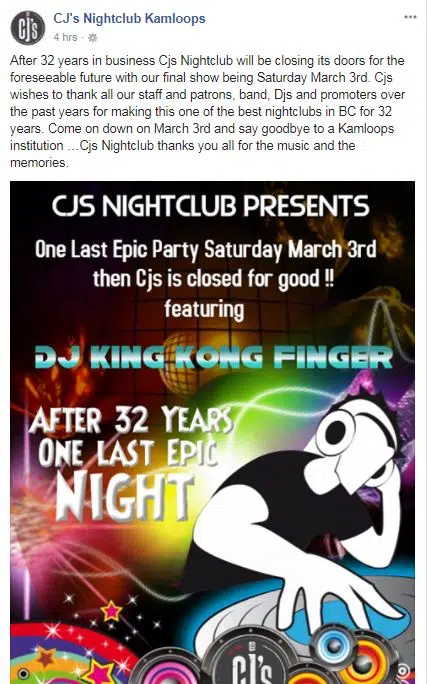 It is the end of the road for a Kamloops fixture as CJ's nightclub has posted on Facebook it is closing its doors early next month.
The nightclub is inviting people down for one final blowout Saturday March 3rd before it closes its doors for quote "the foreseeable future."
Kamloops Central Business Improvement Association President Mike O'Reilly says the news is disappointing and it leaves a hole in the downtown core.
"It is definitely a prime piece of commercial real estate in the downtown. From my understanding the nightime entertainment industry has really been struggling across British Columbia as a whole due to increased insurance fees. The business model is just getting harder and harder and that is why you are seeing some of these clubs starting to open up during the day to sell food and become more of a pub because it is just so hard to make it in that business."
O'Reilly says the downtown core is designated as the entertainment hub for the city but he also notes it is prime real estate the site provides interesting redevelopment opportunities.