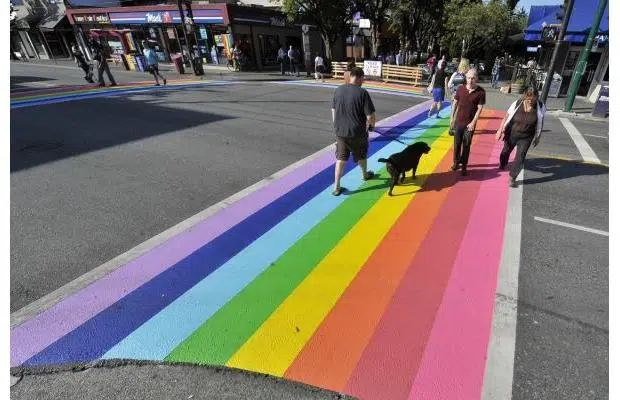 A Vancouver lawyer is coming to the rescue after an LGBTQ student group at Merritt Secondary School's quest for a rainbow crosswalk in the city was denied by mayor and council.
Acumen Law's Kyla Lee says she found council's crosswalk decision frustrating.
"I thought the comments of city council members and the mayor were quite outdated and offensive."
Lee adding the rationale from Merritt mayor Neil Menard in making the decision was silly, saying in essence if the city gives a crosswalk to the LGBTQ community then they would have to do the same for all other groups.
"It is a message of hope and optimism and acceptance for a community it is not promoting a hockey team."
Lee, as it turns out, owns a parking lot in downtown Merritt, had to do something.
"Both myself and Paul Doroshenko my business partner who owns the parking lot next to me. Both of us are willing to contribute money as well to make this happen. This is an important thing. This is good for the community. It does not hurt anybody. It is going to help people who are scared about coming out, who are scared about being true to themselves. I want to contribute to things like that happening."
Lee took to social media to offer her parking lot property to the kids.
"After my tweet I was able to get in touch with the deputy superintendent for School District 58. They are having a board meeting later this month so they are going to bring up the issue at the board meeting. So it is moving forward."
There are rainbow crosswalks representing inclusion in many communities across the province.