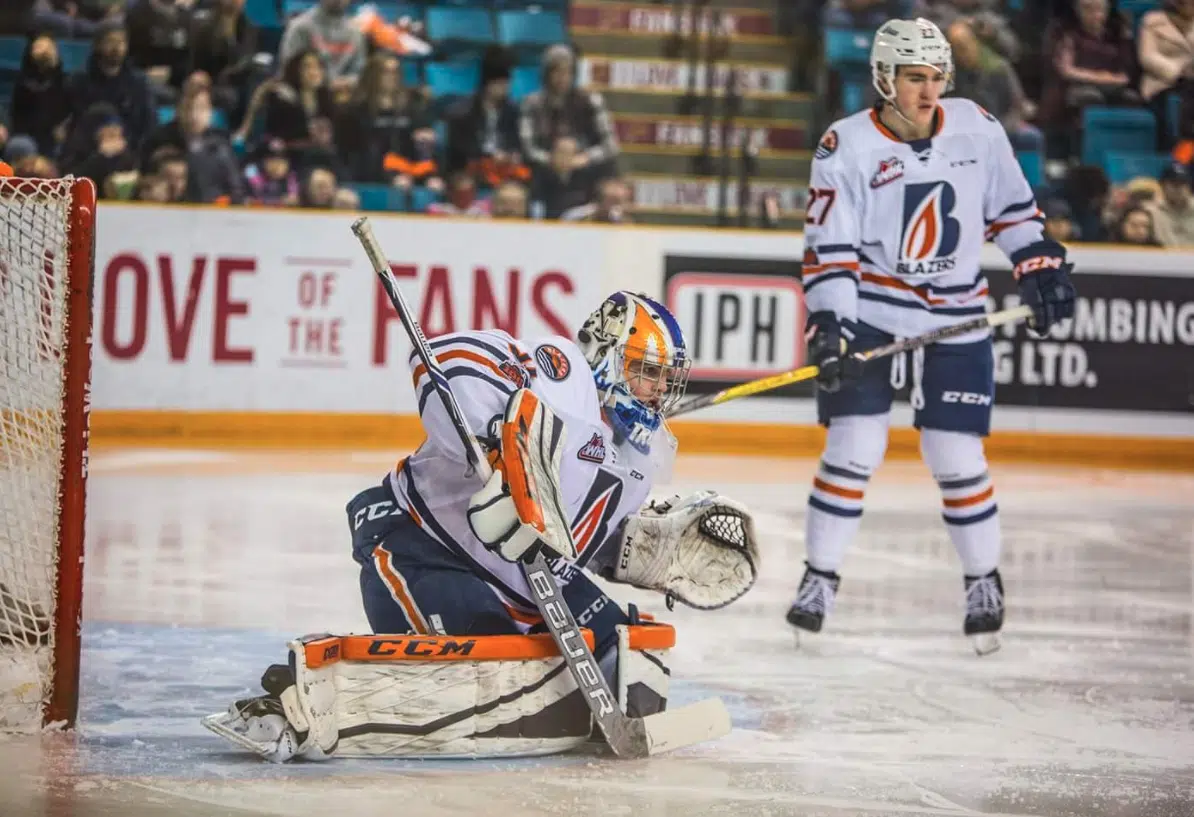 By Jon Keen 
Let me be blunt to start… this version of the Blazers was no doubt the least skilled junior team I've covered in my 20 years around the league.
That includes the 2004-05 Swift Current Broncos who set a record for fewest goals in a WHL season.  135 or 1.87 on average per game.  That team was shutout 19 times.  I used to take radio commercial breaks while they were on the powerplay!
Despite the lack of skill on the roster this season, the Blazers still found a way to generate goals, and in the end a lack of scoring punch wasn't as big of a problem as I anticipated going in. 212 goals ranked them 20th of the 22 teams.  They generated goals through hard work, pucks to the net, traffic…rebounds.  Gritty, dirty area goals.
In fact the Blazers shooting percentage was dead last this season at 8.7%. That means opposition goaltenders had a .913 save% against them.  Regina was next at 9.31% and Everett at 9.43%
(numbers courtesy Jeff Hollick and dubnetwork.ca StatsPro)
There were highlights and lowlights, which I'll attempt to break down here before we look ahead.
The Start
In what turned out to be the worst start to a season in franchise history, going 0-9 proved to be too big of a hole to bounce back from.
"We've had bad starts three seasons in a row, and something has to change," said GM Stu MacGregor Friday night after the final home game on our Radio NL post-game show.
"It just doesn't allow you to have another stumble at any point of the season after that," he continued.
Although they did go 16-8-1 from that point into the Christmas break, a stumble in the tough month of February was too much to overcome.  A February 12th BC Family Day loss to Edmonton in front of a sold out crowd was the beginning of the end.  Just one win in a stretch of nine games after the Family Day loss ended any hopes of snagging a playoff spot.
Eastern Swing
Once again the Blazers hit the prairies like out-of-control brush fire.  In what was their best stretch of hockey and most consistent play of the year, the club probably should have won all six of those games, but went a respectable 3-2-1 through a very tough division this season.
They were playing the way they had to in order to win. Physical, hard forecheck, creating turnovers and finishing chances.  They dominated in Moose Jaw and Regina, but were stymied by a 40 save effort in Swift Current by G Logan Flodell.
The heavy Saskatchewan roster presence the last number of years may have played a factor.  Those players always seem to bring their best in front of family and friends.
Post-Christmas Fizzle
Whatever mojo was found on that eastern trip before Christmas, was lost somewhere in that 12 day break.
In the 10 games after the break, the Blazers went 2-6-2 and they were clearly back to "square one" after finding their best game before the break.
I know this was frustrating for the coaching staff.  To have all that momentum taken away was difficult, considering this club looked like a real contender based on its play before Christmas.
The Deadline
When the Blazers moved out Garrett Pilon and Ondrej Vala just before the January 10th trade deadline, the path of the team was nearly set.  Although the Blazers still had hoped to get into the playoffs despite trading away two top players, it was just inconceivable.
The deal came to no one's surprise except for Ondrej Vala.  The d-man took the move hard.  He loved it here, and had a good set-up off the ice.  I could still sense he missed it when we spoke in Everett.  It was hard news for GM Stu MacGregor to break to him.
The deal was a win-win, but losing two top players from January 9th on was a tough blow.  The return was too strong for the Blazers to pass up… 17 year-olds D Montana Onyebuchi, F Orrin Centazzo, a 1st round pick in 2019, a 4th round pick in 2019 plus 2002 born prospects Nathanael Hinds and Kalen Ukrainetz.
It was a great return, much more than any other team was reportedly offering for Pilon.  He was close to being a Swift Current Bronco or Tri-City American, but those deals didn't work out in the end.  This was by far the best return compared to those offers.  I think the team and fans are excited for Onyebuchi and Centazzo in the future…to go along with the picks and prospects.
GM Stu could have taken the deadline further.  There were major offers for Jermaine Loewen who MacGregor stated Friday night on our post-game show "two first rounders…but they don't play for you."
Dylan Ferguson's name was also thrown around…but I don't think the Blazers ever got a legitimate offer for his services.  Tire-kicking sure.  A legit deal they couldn't pass up? No.
In the end, both Ferguson and Loewen will be playing prominent roles next year (if they return). Loewen is the poster-boy, fan favorite of this team, and could be in line to be next year's captain if the progression continues.
Hay's Day
When I look back on the season highlight. It's without a doubt the weekend of January 26th and 27th.  The veteran head coach had his team playing hard and to the game plan in back-to-back wins over Portland to first tie, and then break the all-time WHL coaching wins record at 743.
It was a special weekend for the Blazer organization.  The team rallied around their coach to put in two of their best efforts of the season with the record finally within reach.
The Graduation
Moving on, Nick Chyzowski, Joe Gatenby and Brady Reagan. A combined 1000 WHL games, and eight seasons in a Blazer jersey.  Chyzowski's last touch of the puck was a shootout winner Saturday night. Joe is wise young man well beyond his years. 20 going on 30. He will join the Atlanta Gladiators of the ECHL to finish up the season. Brady Reagan was a calming figure with some grit on defense who really contributed here in his one season. He should be proud of his year.
Looking Ahead
The Blazers have 11 players who will enter their 18 year-old season next year.  That's a lot.  Is it too many? Maybe.  But the lack of depth at the 19 year-old age group may leave them no choice.  Barring a trade the Blazers will enter with three 19 year-olds next season. (Ludwar, Walton, Kneen).
Two of those three played a fourth line or 7th defenseman role on the team. Kneen, the team's 1st round pick, 3rd overall will be a leader on the blueline next season.
Let's look at the goaltending for next season:
Dylan Ferguson (20) – does he come back after signing a contract with Vegas? I think he will be here based on the Golden Knights found depth at that position – only exposed when five goaltenders went down with injury this season.  I think Vegas found out they have strength in that position.  A lot can happen in the off-season though. If Fergie moves on, than good for him. I know he feels he's ready for the next level. Let's not forget his three week stint with the NHL club on emergency recall.
Max Palaga (18) – Max saved his best for last in the season finale in PG. Robbing the story-book OT ending for the Cougars when he denied 20 year-old's O'Brien and Bethune on an OT 2-on-0, and then making two saves in the shootout to help his team win 6-5. He is going to be pushed by the two below him and will have to be heads and tails better than the two younger players in camp.
Rayce Ramsay (17) – By all accounts had a strong AAA season in Saskatoon.  He spent a week here late in the season and backed-up in Kelowna in the second last weekend of the season.
Dylan Garand (16) – I think we were all impressed November 10th when as a 15 year-old…Garand earned his first WHL win in a 3-2 W over Red Deer.  Really poised, reall solid.  He had a great season with Delta's Academy. From what I told he was the best goaltender in that league this season.  At 16 could he come in and handle back-up duties with the Blazers?
Right now, rookies pressing for a spot next season include the two goaltenders above, defenseman Quinn Schmiemann (17) (Sask AAA midget defenseman of the year) plus forwards Kyrell Sopotyk (17) and former 1st round bantam pick in 2017 Josh Pillar (16) – both teammates with the AAA Prince Albert Mintos
These are the favorites but not limited to others making a strong case in camp.  Anyone can come in next season and steal the show.  It takes a lot to make the jump full time to the WHL though.  The Blazers have also shown they won't rush into keeping someone they feel can better develop in midget for another season.
Others on the cusp… I've had some ask about D Jimmy Darby who I personally liked at summer camp.  He remains unsigned and doesn't appear to be in the team's future plans at this point.  Other names thrown around… Trevor Thurston, Reese Belton, Riley Ginell, Ethan Brandwood, Daylan Kuefler and Josh Doan – all would be 16 next season.
Massimo Rizzo
The ship hasn't sailed yet on the Blazer 1st round pick 15th overall in the 2016 WHL Bantam Draft.  GM Stu MacGregor gave us the latest Friday night on that extended postgame show.  He met with Rizzo a couple times last week in Penticton while he was scouting the CSSHL playoffs. He told us the meetings went well and he remains optimistic.
Dialogue seems good and the Blazers haven't been ruled out of his plans. He's yet to commit to an NCAA school or Major Junior Hockey.  But the clock is ticking.  All year long I've heard "he's coming" or "he's not coming" from several sources closer to the situation.   Quite frankly I haven't given it much thought or much talk during this past season.
But now that we are into the off-season, let's dive right in.
He's now the only 2016 first round WHL bantam pick not signed by his WHL team.  I think the Blazers have a plan with or without Mass going into next season, but the plan "with" looks a whole lot better in my eyes.  He has the chance to jump in and be the centre piece along with Connor Zary and Brodi Stuart in a budding group of young forwards. Next year is Rizzo's NHL draft year.  He would be a prominent centre in a top six role with a chance to showcase his talents with plenty of ice-time.  I mean you are looking for opportunity? It doesn't get much better than with this current group of forwards.
To the Rizzo camp, they have yet to break their word. Everything they have said in the past has been followed. In fact, I believe they have gone to great lengths not to play favorites one way or the other.
The #13 Blazer jersey remains vacant and hanging in the spare room.  Heck if Mass wants #88 maybe the Blazers break the mold.  The highest ever number worn is #44 by Robbie Brown.
The CHL Import Draft
The Blazers will be selecting once, and possibly twice this summer.  Based on their standings this season they will have a high 1st pick.  They will have to make a decision to return Swiss F Justin Sigrist for his 18 year-old season or move on.
A month ago, the decision would have been easy. Two picks please and thanks. But Sigrist saved his best play for the final month of the season which has complicated things.
"I don't have to make that decision now so I won't," quipped MacGregor on our post-game show when pressed on it.
Personally, I think you need your import players to be impact ones.  Lately… Bozon, Balcers, and Vala come to mind.  If they aren't in your top six up front or top four on the blue line, then what purpose are they serving exactly?  You can find a lot of young players to serve to be your 6th defenseman or fourth line winger.
The Import Draft is a crap shoot at best…and I don't envy WHL GM's playing that game one bit.  It's agent driven, and it's a dance.
Does the possibility of hosting the Memorial Cup impact those selections? You'd like to think so, but I'm not so sure it does.
The Bantam Draft
Wednesday the ping pong balls go into bingo machine and we find out draft selection.  The Blazers will likely select 5th overall but have nearly a 10% chance of winning the draft and moving to #3.  They won the draft lottery in 2014, allowing them to move up to #3 when they selected Nolan Kneen – the highest ever bantam pick in club history.
This bantam draft is particularly intriguing.  We have a high-end local product named Logan Stankhoven who will likely be a top five pick.  Consider Joey Hicketts went 12th overall in his bantam draft year to Victoria…and he was hyped a lot going into that draft along with Ryan Gropp who was taken 6th overall by Seattle.
My thoughts:  If Stankhoven is available when the Blazers make their selection how can you pass on him?
I don't know just where he sits on the Blazers final list… but in my opinion, you can't go wrong drafting the local product.  He's not just "the local pick" though. His numbers at Yale Academy this season are pretty good.  57 goals, 33 assists for 90 points in 30 games.  Last year he thrilled the home fans with the OT winner to take the esteemed KIBIHT.  A video that I posted to twitter that still is getting "likes" after 15 months.
Where you can go wrong is passing on the elite local player in favour of someone else. That's where you stick your neck out.  We've been down that road before.  No thanks.
And most importantly in my mind… I think he wants to be a Blazer.  He's wore the logo his whole life up until this season before going to Yale Academy.  Although the family hasn't ruled out NCAA, I think if the Blazers took him, we would see him play games next season as a 15 year-old.
Now, there are several high end talented players this season…
"Trevor Wong (St. Georges Academy), Carson Lambos in Winnipeg, the defenseman… Sean Tshigerl in Edmonton is heck of a player, a good defenseman in Saskatchewan Nolan Allan and a really good defenseman in Los Angeles so we'll see," said MacGregor Friday night as we approached 11pm on the air.
It's going to be quite the draft day in Red Deer in early May.
The Future
While it's easy to say better days are ahead, there's a big decision coming in October.  The Memorial Cup is coming to BC in May of 2020, but where will it be hosted? Kamloops, perhaps Victoria or Kelowna? Does another WHL market step up outside of BC and take a run at it? We will know the contenders by June. For now, only the Blazers flag has been raised above the mast.
This Memorial Cup decision in October will likely chart the course for the years ahead.  While the Blazers would love to be the host destination, it means a lot of resources will be poured into the 2019-20 season at the expense of future seasons.  The good thing is they are now starting to show the depth in the organization in order to pull this off.
They will need to win the popular vote of the WHL's Board of Governors. While some see it as "who can guarantee this most money?" I think it runs a little deeper than that.  You have to be in good standing with the other WHL member clubs. Could the Blazers and their bid win a popularity contest?
In Closing
I hope you enjoyed our Blazer coverage this season on Radio NL.  We have a lot in store for the future as we profile, promote and cover the team on around the year basis.  Although it has been a challenging past season, I appreciate Radio NL's and the Blazer organization's effort to make the partnership work.
Thanks to Don Moores, Stu MacGregor, the coaching staff and the players for being so accommodating.
Our coverage continues this week on Radio NL on the Blazers season and the look-ahead.