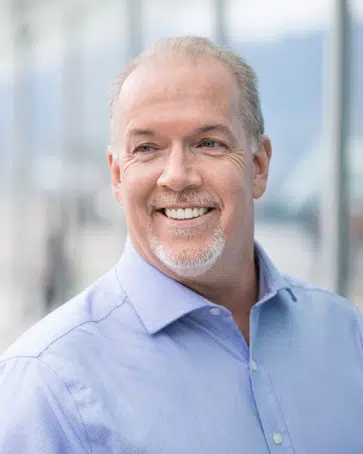 The NDP government has tabled a new framework for LNG proponents in a turn around of its anti-LNG chatter when in opposition.
Premier John Horgan says any LNG project must abide by four conditions guaranteeing a fair return to the province, jobs for British Columbians, partner with First Nations, and live up the province's climate conditions.
Under the NDP LNG potential LNG projects would be offered some PST relief, a rebate on future carbon tax hikes, and no LNG income tax.
"It wouldn't be characterized as a subsidy because the tax would be paid it just wouldn't be paid at the time of purchase. If you go to the hardware store and you buy a couple of 2x4s to take home there is PST on that. In this case the company in question, whether it be LNG Canada or someone else, would purchase those 2x4s and pay the PST once they have constructed what ever they were going to construct and they had a stream of revenue to pay for it."
Horgan took issue with the charge he is being hypocritical after accusing the previous Liberal government of selling the province down the river with its LNG framework.
"We are not giving away more money we are allowing, for example, the industrial rate for electricity. If any industry wants to come to British Columbia they pay the tariff for the industrial rate. The BC Liberals constructed an LNG rate that was different from that. I believe that is burdensome for BC Hydro also for the Utilities Commission."
Horgan says while the Greens are not happy with some aspects of this approach, particularly around meeting greenhouse gas emission targets, they won't be triggering an election over it, that said.
"If we are going to see an increase in emissions because of an export facility in Kitimat we need to make sure we are reducing emissions upstream. Electrification will help with that."
LNG Canada is close to rendering a final investment decision for a proposed facility in Kitimat.