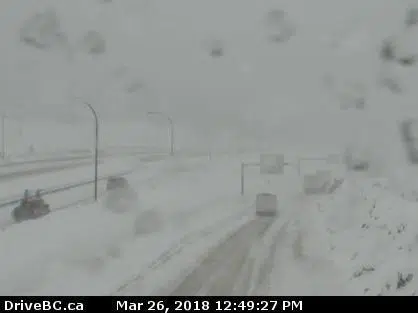 Believe it or not Environment Canada has issued a snowfall warning for the Coquihalla.
Weather forecaster Lisa West says the snow will fall on the Coquihalla between Merritt and Hope today, overnight, and into tomorrow morning.
"We have a snowfall warning in place for the Coquihalla right now. It is already snowing there. They have seen about nine to ten centimetres so far. The snow is going to continue througout the day and overnight into Tuesday. Total snowfall amounts could actually reach 15 to 25 centimetres by the time all is said and done tomorrow morning."
West says the snowfall willbe steady all day and then pick up overnight.
She says drivers should be careful with the snow at times falling heavy enough to impact visibility.