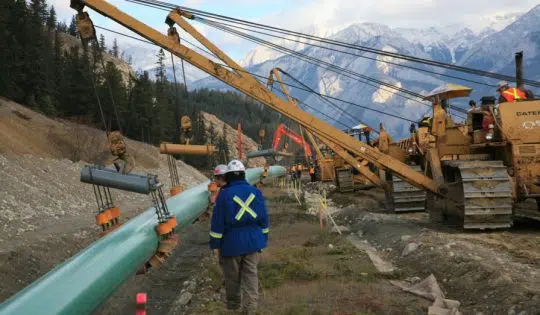 Kinder Morgan Canada says the future of its own Trans-Mountain pipeline is no longer certain.
Kinder Morgan announced on Sunday it is suspending all "non-essential" spending on the pipeline.
The pipeline company cites current circumstances "specifically including the continued actions in opposition to the Project by the Province of British Columbia."
Kinder Morgan says it will consult with stakeholders to find clarity on a path forward on building the pipeline "that may allow the Project to proceed."
Kinder Morgan Chairman and Chief Executive Officer Steve Kean says the pipeline has the blessing of the federal government and has repeatedly won every court challenge against it. 
But Kean adds "a company cannot litigate its way" to getting the pipeline built in the middle of jurisdictional differences between governments.
"As KML has repeatedly stated, we will be judicious in our use of shareholder funds.  In keeping with that commitment, we have determined that in the current environment, we will not put KML shareholders at risk on the remaining project spend."
The news had an immediate reaction from the federal government.
Federal Energy minister Jim Carr addressed reporters to say his government will "look at every option" to get the pipeline built.
Carr told reporters "what we are witnessing is the consequences of uncertainty" and added that uncertainty is directly to blame on the B.C. Government.
Carr demanded the province cease and desist in its opposition to the Trans-Mountain pipeline and while sounding like his government will draw a much firmer line on the issue wouldn't provide any specifics to reporters.
Alberta Premier Rachel Notley also responding quickly.
In a statement Notley says B.C. Premier John Horgan "believes he can harass this project without economic consequences. Will bring forward legislation to impose consequences on BC if this continues."
Notley further warned Horgan he "cannot mess with Alberta."
Even Prime Minister Justin Trudeau waded in via Twitter.
Canada is a country of the rule of law, and the federal government will act in the national interest. Access to world markets for Canadian resources is a core national interest. The Trans Mountain expansion will be built. https://t.co/97vvScpvOo

— Justin Trudeau (@JustinTrudeau) April 9, 2018