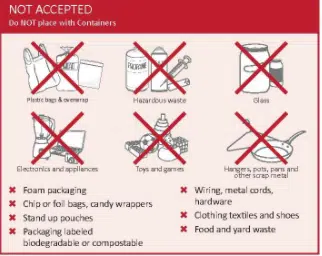 City of Kamloops staff are concerned about the amount of non-recyclable materials showing up in household blue bins.
Nearly one year into an agreement with Recycle B.C. to take the city's recyclables, Civic Operations Director Jen Fretz says an audit shows too much non-recyclable items like paint, soft plastic and glass in household recycling.
"The numbers for contamination percentages that we're seeing are quite high" she says. "They range from 12-16 per-cent and the allowable amount of contamination through Recycle B.C. is three per-cent."
Under the agreement, the city could be fined for not achieving the so-called "contamination targets".
Fretz says collectors and environmental services staff are starting to have a look inside bins to identify households or locations that need follow-up.
"One of the things we're also going to be doing is working more closely with property management companies to try and reduce contamination that way."
She says subsequent visits to targeted households are showing positive results.