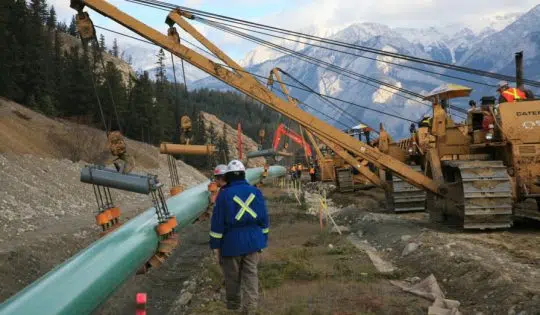 The B.C. Government has released its reference question ahead of a court challenge as it seeks control over the flow of heavy oil through the province.
Attorney General Dave Eby says they will ask the court to review proposed provincial legislation.
"Our approach to this reference is to ask the B.C. Court of Appeal to review proposed amendments to B.C.'s Environmental Management Act. The amendments would give the province authority to place a permit with conditions before permitting hazardous substances into the province above a specified minimum level."
However Eby says they drew a line at the coast noting ocean waters are federal jurisdiction.
"Specifically the legislation excludes an area of federal jurisdiction which is the tankers themselves."
Environment Minister George Heyman says the permitting plan is designed to protect the provincial economy, its coast, and communities.
"The purpose of the permitting is to put conditions on how we can prevent a spill. Doing everything we can to prevent a spill. To ensure we can effectively respond to it and clean it up in the unwelcome event it happens and ensure that the responsible parties are accountable. Those would be conditions attached to a permit. If the applicant met the conditions they would then receive a permit."
Kinder Morgan has set a May 31st deadline to determine certainty on the Trans Mountain pipeline or possibly pull the plug.
Attoney General Dave Eby says Kinder Morgan's deadline is a decision for the company to make, as for the court process itself.
"We are in the courts hands in terms of the timing of the resolution and reference going forward."
Premier John Horgan was asked if the province will abide by what ever decision is reached by the courts.
"Well we won't know with certainty today as we make the reference what the outcome will be. We will await the ruling to see what the points of law are that are made by the courts and then we will decide on an appeal at that time."
In response Alberta Premier Rachel Notley says what the province tabled today makes no sense pointing to it wanting to impose a harsh permitting regime on future heavy oil shipments while apparently being okay with all the bitumen being shipped through the province today.
Notley added if the court sides with B.C. in this court challenge all provinces will be granted the same right, which would result in "economic gridlock."