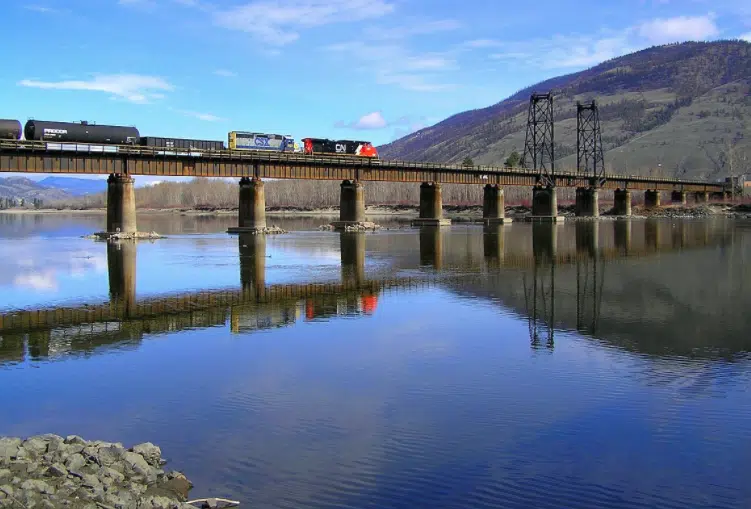 The rain the past 24 hours in the Kamloops area has not caused any major increases in flood levels in the Southern Interior.
Kamloops Utility Services Manager Greg Wightman says, many areas around the River City received a lot more precipitation.
Wightman says, the level of the Thompson River at the Overlanders Bridge has jumped 50 centimetres since Monday, while Campbell Creek edged up five centimetres.
He says, Barnhartvale Road remains closed.
"The only thing we have done out there is a little bit of roadside repair work yesterday to stabilize the shoulder of Barnhartvale Road."
Merritt Mayor Neil Menard says, so far, so good in the Nicola Valley.
"Things have not changed the rivers came up a little."
The Chair of the Thompson Nicola Regional District, Cache Creek Mayor John Ranta says, the flood situation has improved.
"Cache Creek is down quite a bit. Cache Creek is not threatening the banks, or threatening to overflow onto to the highway anymore."
At Stump Lake its a very different and tense scenario.
Resident Cindy Coehlo wants the Thompson Nicola Regional District to make a decision to lower the level of the lake
"Nobody wants to make the decision to dig our a to a controlled dig in order to allow some of the water out of the lake."
TNRD spokesperson Michelle Nordstrom on why they wont do that.
"The downstream impacts of doing this at this time would potentially pout more residents at a higher risk of flooding in the Nicola Lake area."
Thompson Nicola Regional District Officials are reopening Highway 8 West of Merritt. The route, which has been closed about 10 kilometres west of Merritt for several days, due to flooding, is open to local traffic, only with a number of restrictions.
"It also has a width restriction because it's quite narrow so its only allowing vehicles to pass over – local traffic – and its restricted to pedestrians and bicycles and motorcycles. They are not permitted to cross the bridge at this time."
Emergency vehicles will be able to use the bridge 24/7. She says, be prepared for possible delays.
Whether the route will remain open will depend on water levels.