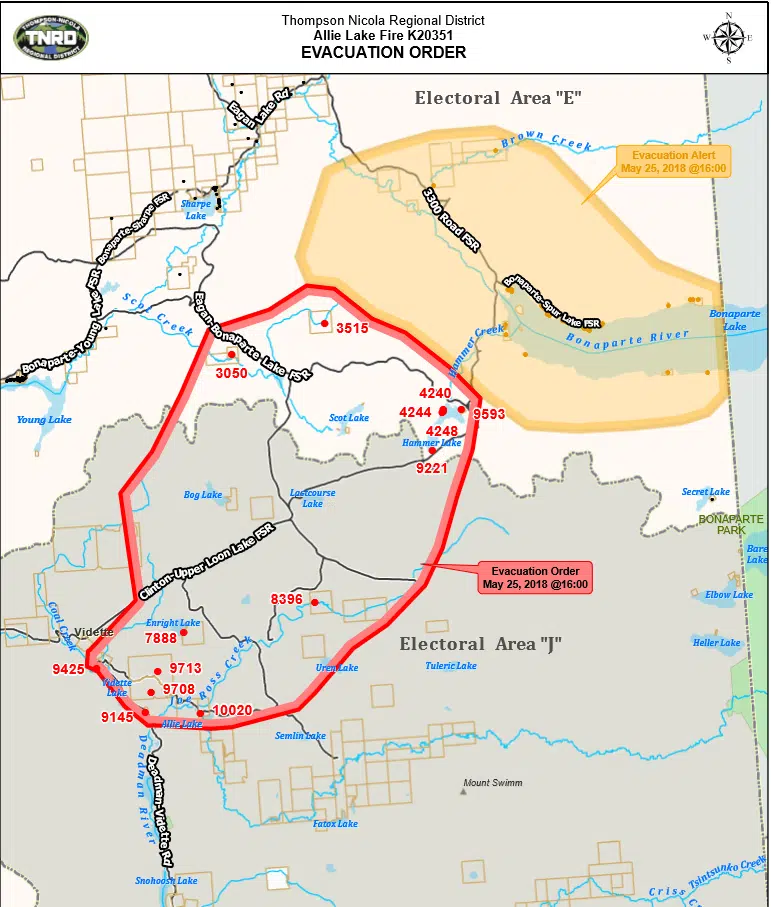 The 1600 hectare Allie Lake wildfire north of Kamloops has forced the evacuation of 14 properties near Clinton and put another 561 addresses under an evacuation alert.
The fire has doubled in size since Thursday.
The Thompson Nicola Regional District has issued the evacuation orders and alerts and spokesperson Michelle Nordstrom says two groups of homes have been told to get out.
"Those properties are kind of in two different electoral areas. We have got seven of them located in the Bonaparte Lake area and the other seven are located in the Deadman-Vidette area."
Nordstrom says depending on where the evacuated homeowners are they will go to one of two different reception centres.
"The properties located on Bonaparte Lake are going to have travel north up towards highway 24 and then go east towards Little Fort and then out to highway 5 to Barriere. Once they are in Barriere they can register at the ESS reception centre at the Barriere Lions Hall once they get there."
For homes on Deadman-Vidette road she says evacuees must report to the Emergency Reception Centre at the McArthur Island Sports Centre.
The homes under an evacuation order are
• 9221, 9593 Clinton-Upper Loon Lake FSR
• 3050, 3515, 4240, 4244, 4248 Eagan-Bonaparte Lake FSR
• 7888, 8396 Clinton-Upper Loon Lake FSR
• 9145, 9425, 9708, 9713, 10020 Deadman Vidette Rd
As for the evacuaiton alert.
"So we have ordered an evacuation alert and that is largely also in the Bonaparte Lake area. Currently with our monitoring we recognize the wildfire poses an imminent threat to the people and properties in that area. So we just issued the evacuation alert to prepare them to evacuate if it is necessary."
The homes under an alert are.
• 5160, 5193, 5233, 5245, 5401, 5450 Bonaparte Lake
• 9992 to 10096 Bonaparte-Spur Lake FSR
• 4680 to 5760 Eagan-Bonaparte Lake FSR
She says the TNRD is continuing to monitor the fire, which exploded in size due to high winds and getting into an area with a lot of pine beetle kill.
For those under an evacuation alert the TNRD advises.
1. Locate all family members and be prepared to evacuate your residence and property to an identified safe reception center.
2. Gather essential items such as medications, eyeglasses, valuable papers (insurance), photographs and immediate care needs for dependants.
3. Prepare to move any disabled persons and children.
4. Collect pets and pet needs.
5. If possible, move livestock to a safe area.