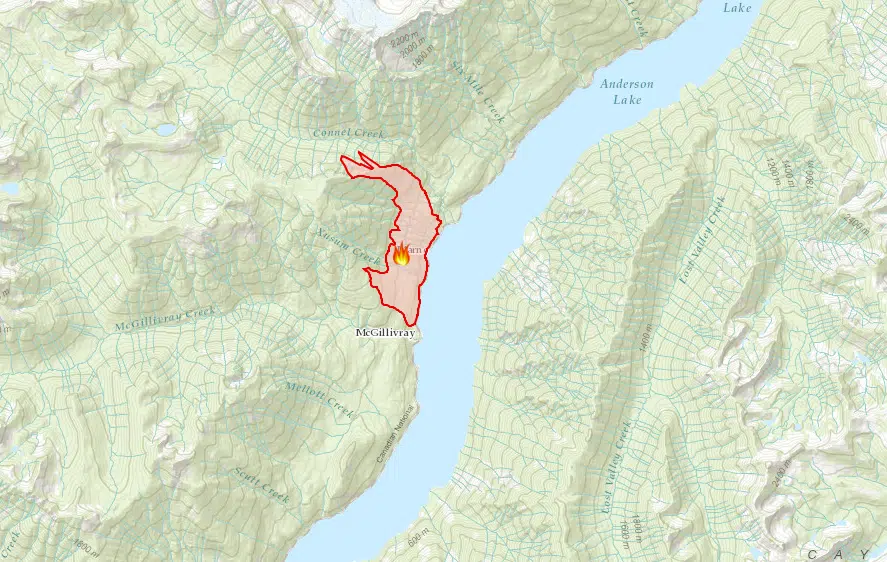 The B.C Wildfire Service is still out on the front lines of the Xusum Creek/Anderson Lake wildfire northwest of Kamloops.
Fire Information Officer, Brenna Ward says, today's resources are the same as yesterday's.
"So we do still have the 64 firefighters out there, 3 helicopters, 3 pieces of heavy equipment, and the air tankers if they need them."
The blaze is now 25 per cent contained, after growing to 500 hectares over the weekend.
"And the crews are really focusing on the lower elevations near the lake to prevent it from spreading. But if it travels up flow, that's less of a concern, so the residents in the area might still see some fire activity on the top."
Ward adding, they also want to emphasize the need for the public to stay back and let firefighters do their jobs.
"So, members of the public staying away from helicopters, staying safe in terms of not going near operations, staying away from the fire, not going on the fire, those kind of things."
Evacuation alerts remain in place for 25 properties in the McGillivray community.