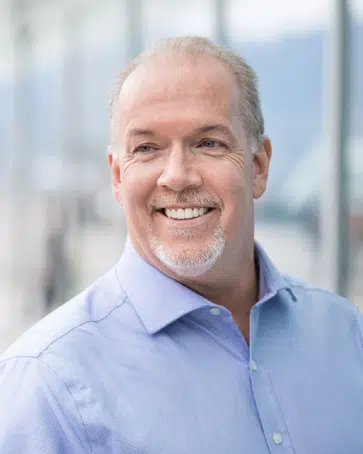 The Premier took a step towards tabling a strategy for BC's wild salmon but not every one was happy about.
John Horgan says a group of experts will work on how to sustain and restore salmon stocks.
"It is a tragedy that we find ourselves in 2018 on the crest of perhaps losing this important species to all of the people who depend on it. All of the land and all of the animals that depend on it. I am very delighted today to announce the formation of a Wild Salmon Advisory Council."
But the lack of immediate action didn't go over well with some as a woman at the press conference began to shout at the Premier.
"We don't have time our salmon are dying."
Premier John Horgan "Thank you."
"It is in the media!"
Horgan "Well I will certainly take that into consideration. We have been working…."
"Your doing nothing in defense of the [ineligble] You are throwing another roadblock up!"
Horgan "I don't agree with you. I disagree with you."
The woman was not happy with what she heard and interupted the Premier again.
Horgan "My view of the Department of Fisheries and Oceans is that they annually try and manage stakeholders rather than have a long term vision for our oceans and our fish. And the closure of selected recreational fisheries along the Strait of Juan de Fuca…"
"They are doing in our waters what they are not allowed to do in their own country. Wake up!"
Horgan "I am wide awake ma'am."
"You sold us out!"
Horgan "If that is your view you are welcome to put your name on a ballot anytime soon."
Horgan was asked with an absence of fish farm representation on the council if the industry should be worried.
"I think that their concern should be that there is a divide in British Columbia about the continued existence of the industry. We need to make sure that we are working as a government with the primary area of responsibility, which is the federal government. The province is responsible for the anchors that hold the nets to the ground. The federal government is responsible for everything else."
The 14 member council includes MLAs as well as representatives from various fishing and environmental groups.
Minister of Agriculture's Wild Salmon Advisory Council members:
Doug Routley, MLA for Nanaimo-North Cowichan, co-chair
Chief Marilyn Slett, Heiltsuk First Nation, co-chair
Adam Olsen, MLA for Saanich North and the Islands
Joy Thorkelson, United Fishermen and Allied Workers' Union, president
Ray Harris, First Nations Summit, co-chair
Dawn Machin, Okanagan Nation Alliance fisheries biologist
Thomas Alexis, Upper Fraser Fisheries Conservation Alliance, director
Ian Bruce, executive co-ordinator, Peninsula Streams Society
Martin Paish, director, Sport Fishing Institute of British Columbia
Mike Hicks, Capital Regional District's director for the Juan de Fuca Electoral Area
James Lawson, commercial fisherman, Tsimshian and Heiltsuk First Nation
Cailyn Siider, commercial fisherman from Sointula, B.C.
Tasha Sutcliffe, Ecotrust Canada
Ward Bond, Island Outfitters, and Pacific Salmon Foundation board member