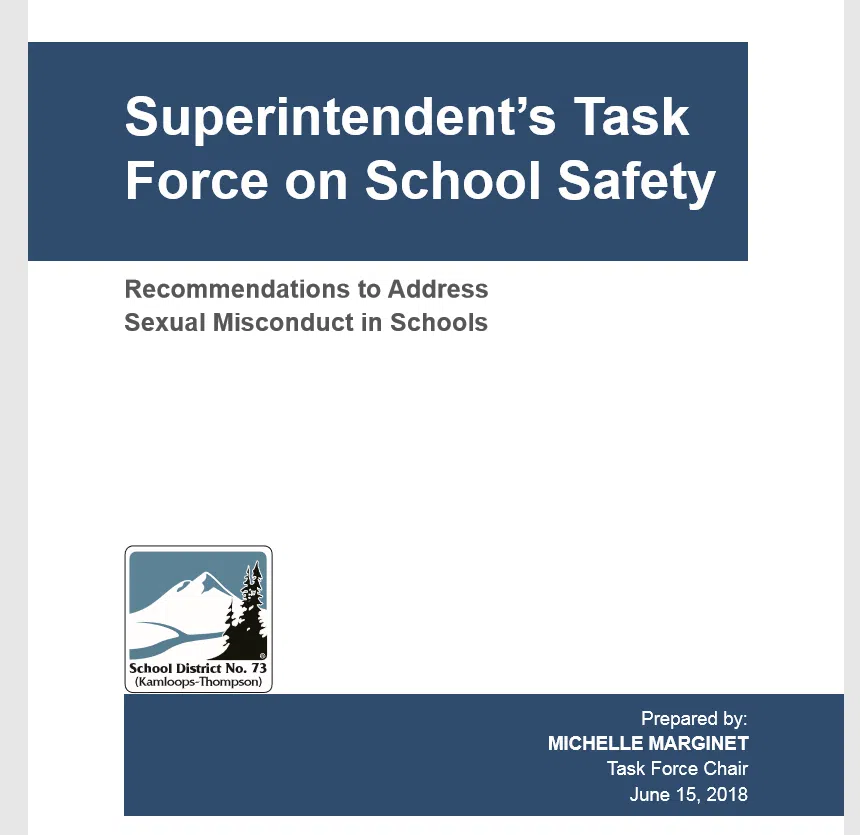 A task force struck to examine two separate sexual misconduct incidents within the Kamloops Thompson School District has tabled its final report making seven recommendations.
"They are going to help the district move forward to address what may have been a gap in the way we processed complaints around sexual misconduct."
Superintendent Alison Sidow says the district has a responsibility to all students involved in a sexual misconduct allegation but "I think we need to spend a little bit more time thinking about what are the needs of the victim? And how do we respond in a way that is both fair and compassionate."
Sidow says they will look at more anonymous ways for students to report being sexually assaulted.
"We have got the erase bullying reporting site, which we believe is under utilized, that is something that we will explore."
She says education will be a major focus by teaching kids beginning in elementary school about healthy relationships and what sexual misconduct is.
"We are going to tackle it head on. Our best weapon in stopping sexual misconduct is education. Perhaps we have been reluctant or unsure about how to teach that to students in younger grades but I think we can do it. And we can do it in a way that is age appropriate, that is sensitive, and to do it in partnership with families."
Sidow was asked if the two original allegations prompting the formation of the task force were found to be true and if so what was the end result?
"I can tell you that they were fully investigated. The families and the students who were involved were all dealt with appropriately. However as I mentioned I think our policies and protocols could do a better job of looking after the needs of the victim. I think sometimes in our quest to find justice we spend a lot of time thinking about how to deal with the perpetrator and sometimes the needs of the victim go unnoticed."
In one case on January 30th at a Kamloops elementary school a parent alleged her daughter had been lured to a secluded place restrained, groped, and struck by several boys.
She was then put back in class with the boys involved.
The full report can be read HERE