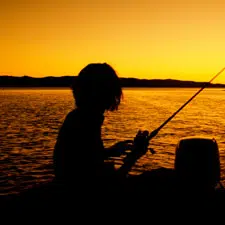 Do you remember the first fish you caught?
The Freshwater Fishery Society of BC has a program that allows families to come and try out fishing, and they're expecting participant number 250,000 at Paul Lake Wednesday, July 18th.
Outreach Coordinator Jessica Yarwood says the group does events at lakes across BC but they'll be celebrating the milestone with cupcakes and a prize package that includes a fishing rod.
"The program was created in 2006 to just address the decline in freshwater fishing license sales. So in the 1990's freshwater fishing license sales were at an all time high but it had decreased by 30 per cent by 2005. So right when this program started it was just to get people back connected to fishing."
Yarwood adds that kids who get outdoors in the environment are more likely to want to protect it later in life.
For more details visit www.gofishbc.ca