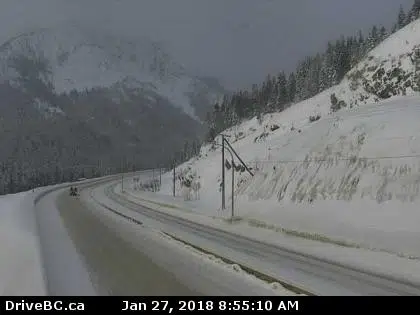 Believe it or not forecasts are calling for freezing conditions and falling snow on high altitude sections of the Coquihalla over this coming weekend.
"Well it is that time of year you can get it any-day."
Merritt Mayor Neil Menard says after taking his concerns about maintenance of the Coquihalla to the province after two winters of crashes and closures he is hoping for a different story this time around.
"We had a really good meeting with Minister Trevena yesterday. We went over all of the stuff that we talked with her about and the changes that they have made, of course we thanked her for that. But we said very very seriously that the maintenance of the Coquihalla, the two connectors, over the winter will be tantamount. They have to make sure that VSA does there job and does it properly. They have a great crew and they are not the problem the contractor is."
Menard says there also needs to be better training for commercial truck drivers to educate them on mountain driving.
That said he added change is in the air thanks to the tragedy that played out in Saskatchewan last April.
"The thing that happened going over to Nipawin with the Humboldt Broncos that has caught the attention of all of the ministers and governments across Canada and the necessity of having drivers that know what they are doing. I think it is going to help."
Menard says there are a lot of good commercial truck drivers but there are also a lot of inexperienced ones who don't know how to drive, winter or summer, in high mountain highways.