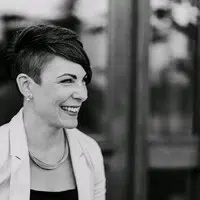 A council candidate with deep roots at Thompson River University believes her life has led her to this step into public life.
Sadie Hunter came to Kamloops in 2001 becoming first a student at TRU before moving into administration staff, working as a Director of Development.
Hunter says even though she is an accomplished young professional now with two undergraduate degrees and a masters in environmental science, it wasn't ever thus…
"I've lived in low income housing. I know what its like to not be able to pay your bills, and have to make that decision to be able to put food on your table, or pay your rent or your phone bill and whatnot. So I understand that position, but I also have that academic background to balance it out."
Hunter believes Kamloops needs to, as a community, figure out its identity.
"We are in this awkward teenager phase where we are moving out of our industrial roots and want to hold on to that and support those industries but looking forward and how we can move Kamloops forward and advance. What is in the city going to look like two hills over the horizon. I think before we can move forward we really need to come together and decide as a community what our vision is going to be."
She says the city is in a good place to leverage a growing tech and green industry initiatives.