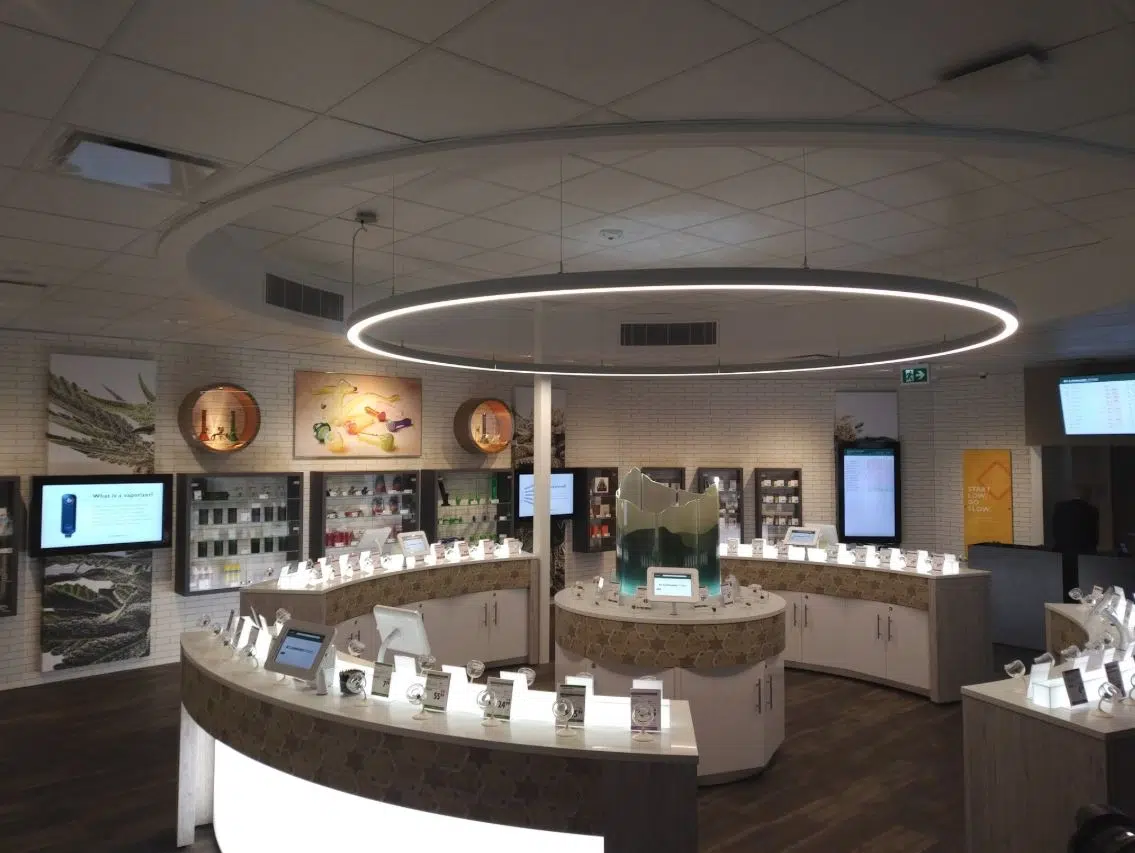 The doors to BC's only cannabis store opened at 10:00 AM this morning, in Kamloops.
People began lining up at 6:00 AM, but things really picked up around 9:30 AM.
People came from near, and they came from far, but Robert Griffiths from Kamloops joined the queue at about 6:00 AM, and spent about $100 in the store.
"It's [a little] unorganized, and it's loud, but hey, it's legal," he told media. "I'm happy, it's a happy day."
A concern for some people leaving the store was the price, saying it's too expensive to buy cannabis from the store.
"The most expensive was $13-$14 a gram, and then tax on top," Griffiths added. "I paid about $10 in tax."
Becky Prete, who works for cannabis company Tweed Inc. was among the first people through the doors today, while Aaron, who only uses his first name, was the first person to leave the store, having made a purchase.
"We dreamed about this day," he said. "I've been in the cannabis industry for 16 years, our company is based in Holland."
"We never thought that it would get to this."It feels great. I'm going to go smoke it."
The Kamloops store will be a training ground, so to speak.
"One of our goals today is to observe the customer experience, and see where we can make any improvements, as it builds momentum," said Director of Cannabis Retail Store Operations for the Liquor Distribution Branch, Kevin Satterfield.
Inside, the store has a clean layout – much like an Apple store – according to several patrons. Along the walls, there is a ton of literature with information and safety advice. They also talk about the types of plants, and cannabis in general.
Customers are able to sniff each strain of cannabis on display from a "smell jar", and even look at it with a flashlight, but otherwise no product is openly displayed.
"It's set up in a way that the different types of species are together, it makes it easier [for people] to find products that they're looking for," added Sattefield. "Education is a huge part of what we want to do."
As for security, it's a top priority as well – roll down shutters, cameras, security guards on site for the first week at least.
"We don't anticipate issues," said Sattefield. "The product is locked away, so we feel secure."
About 20 people have been hired to work in the store.
Robert Griffiths of #Kamloops showed the media a sample of what he bought today.

He was in line since about 6:00 AM this morning. #BC #cannabis #legalization @RadioNLNews pic.twitter.com/kFnswInTBH

— Victor Mario Kaisar (@supermario_47) October 17, 2018
Here's more from the inside of the #cannabis store in #Kamloops.

Store opens in under an hour, at 10:00 AM.

"A great location to start and grow," said Kevin Satterfield, the Director of Store Operations. #BC #Legalization @RadioNLNews pic.twitter.com/bSZNmNAcZ8

— Victor Mario Kaisar (@supermario_47) October 17, 2018