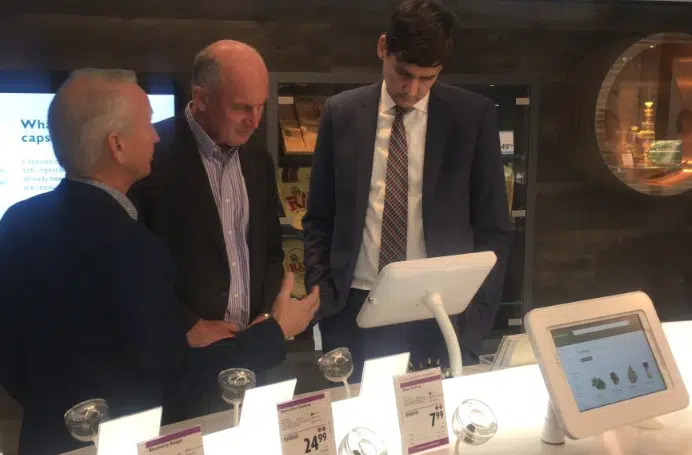 Two big provincial government cabinet ministers have toured the only provincial cannabis store in B.C. here in Kamloops.
Attorney General Dave Eby came out of the store thanking the City of Kamloops for the work it did to open the city's arms to legal marijuana.
"The city's creation of a clear comprehensive set of regulations open the door to B.C. Cannabis Stores establishing its first retail outlet here in Kamloops. Minister Farnworth and I have just finished a tour and as you have seen it has an excellent layout and a beautiful design. It really does set the standard for the stores to come."
Eby says the store offers an incredible experience for cannabis customers all set up in an very quick timeline.
He noted the world is watching Canada as it becomes the second country on earth, and the largest, to legalize marijuana.
After touring the province's only government cannabis store B.C.'s Public Safety minister is not worried about any lack of supply of legal marijuana.
With online sales humming along and one government store up and running and plenty of others coming online shortly Mike Farnworth is not worried about a lack of product.
"We have got lots of supply. Federally for example we know that they have been issuing more and more licenced production licences in different parts of the country including here in British Columbia. Some of those have been in place for a while so supply is coming in. Others were issued earlier this summer with supply to come on. Additional licences are being issued with supply to coming in down the road."
Farnworth says some specialized product might sell out but they will be replenished as fast as possible.
As far as pricing he says this is a new business and while prices are competitive but like any market there will be price fluctuation.