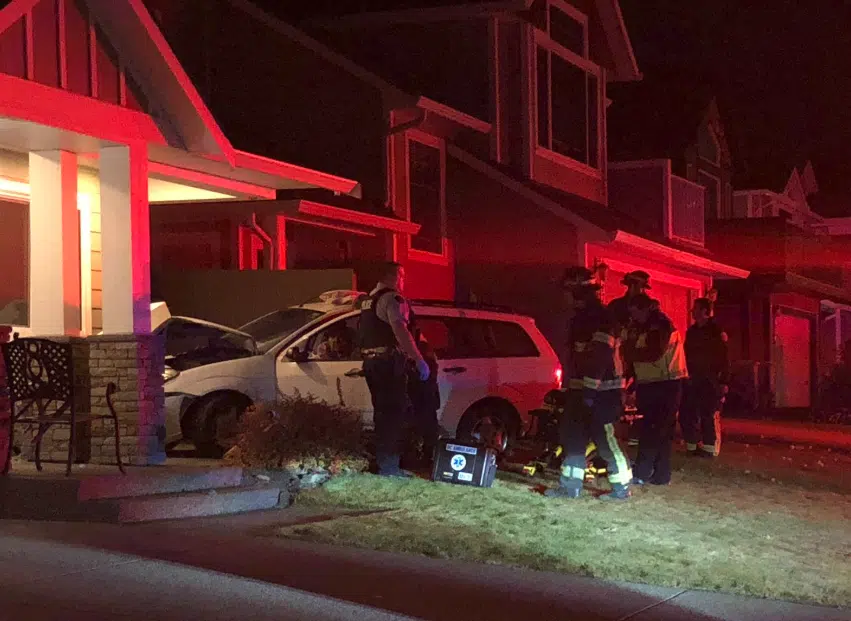 Charges may be coming after a woman hit several vehicles before piling her car into a Kamloops home last night.
RCMP Corporal Jodi Shelkie says they began receiving calls about an erratic driver on the Coquihalla around 10:00 pm.
Shelkie says the car exited the highway near Copperhead Drive "at a high rate of speed" and then hit three cars on Foxtail Drive before slamming into a home.
"The female driver was arrested on scene for dangerous driving and was transported to Royal Inland Hospital with head injuries she sustained from the airbag deploying in her vehicle," Shelkie said.
Teresa Neves was at home at the time, and ran to the window when she heard screeching tires outside.
"I look out the window and the white car had hit the SUV and was diagonal in the driveway across the street," she said. "Another car was coming up, and she looked like she was trying to to take off but lost control and beamed it straight for our entrance."
"I grabbed my daughter away from the window, because I wasn't exactly sure where the car was going to hit."
'James' was downstairs at the time. He opened the front door, and climbed over debris to get to the driver inside the car.
"First I couldn't get the door open," he noted. "I was able to unlock it because the window was rolled down."
"I checked for a pulse, but I didn't get one, but realized she was breathing, so that kind of put me at ease."
No one in the house was injured.
Police Investigation
Cpl. Shelkie says they suspect impaired driving and are trying to determine how long she was on the road and from where she came.
"We are still looking into where she came from," Shelkie added. "We just started receiving the calls though when she was around Inks Lake road."
The driver is a 59-year-old woman from Prince George.
Shelkie added the situation could have been much worse, noting the reduced amount of highway traffic and pedestrians on Foxtail at such a late hour.
With files from Brett Mineer.
[/vc_column][/vc_row]
Spoke to witnesses on scene - including the family in the house that was hit. They believe the driver may have been impaired. Two other vehicles were hit on Foxtail and I'm told others around #Kamloops were hit as well - possibly attributable to the same driver. pic.twitter.com/6QnQOqI0LE

— Brett Mineer (@MineerBrett) October 23, 2018