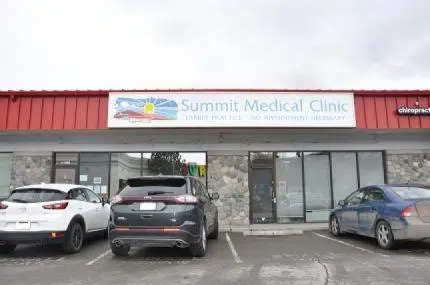 The office manager of the Summit Medical Clinic is speaking out after word got out that the clinic will close next month.
The clinic has been around for over 25 years, and a shortage of doctors is partly to blame for the closure.
Office Manager Dan Perry says they serve up to 10,000 patients each year, and dozens line up outside the door in the morning.
"A doctor in Chase, for example, gets 12 per cent more per patient, that someone in Kamloops," Perry said. "They'll see fewer patients, and they'll get an annual bonus. That's how the government created an opportunity for physicians in rural areas."
"When you look at a place like Golden, there more physicians there than there 'should be.'"
He's not opposed to incentives, saying it's needed to get doctors to go into those smaller communities. But in the long run, it's detrimental to the bigger centres like Kelowna and Kamloops.
"Now we've become the other part of the equation where we're underserviced," he added.
Perry adds they've noticed a lot of new doctors tend to go those smaller communities that offer them more money, and a lighter workload.
"That's what we're competing with, and I'm not blaming them," Perry said. "If I had that kind of debt load, I would be considering those options too."
The Summit Medical Centre closes on December 15.