The BC Conservation Officer Service is asking for help in identifying two men after an apparent poaching incident in Spences Bridge.
Last Sunday, November 11, around 10:00 AM, two men with rifles were seen just off Highway 1 by a witness, who videoed the incident.
Conservation Officer Jeff Clancy says the incident is a big no-no, after the remains of a yearling lamb Bighorn Sheep was found.
"There is a sheep season in that area, not at this time, and definitely not for lamb big horns," he said. "There is a lamb and ewe season elsewhere, but not in this area."
"These populations of sheep they're not able to handle a season like that."
The apparent shooter is a man between 45 and 55 years of age, wearing a dark or black jacket and pants.
The second suspect is a Caucasian man, about 40 to 50 years old, with light coloured hair. He was wearing a brown or camouflage sweater with a bright logo on the front, a scarf or something similar around the neck, and grey or green pants.
In some cases, Clancy notes, First Nations People are allowed to hunt Bighorn sheep for subsistence.
"It doesn't appear these individuals were First Nations and the fact they took off in such a hurry, we don't believe they were harvesting the sheep for subsistence," he added.
"And the fact that the sheep was left there is not okay."
If you happen to have any information, you can the RAPP 24 hour hotline at 1-877-952-7277.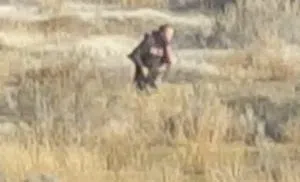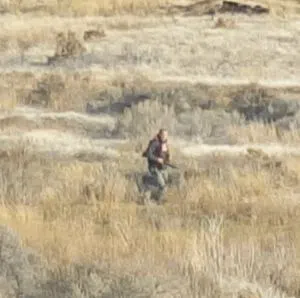 BC Conservation Officers (@_BCCOS) are looking to identify two men involved in an apparent poaching case, near #SpencesBridge on July 11.#Kamloops @RadioNLNews pic.twitter.com/eOzmyPFSiQ

— Victor Mario Kaisar (@supermario_47) November 15, 2018