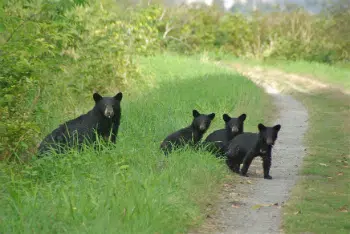 It's been an active year for the WildSafe BC Kamloops program.
While they don't have numbers handy just yet, Courtney Hawkins the Kamloops Community Coordinator noticed more of an awareness this year.
She says there were fewer bear conflicts compared to previous years.
"It's hard to pinpoint exactly what this was related to," she said. "We're thinking it's because there was a such a great natural food source available in the spring where the bears didn't need to come into the valley like they might usually.
She says people seem to be getting the message.
"We're hearing more awareness about things such as bird seed," Hawkins added. "That's something that people didn't really think about before."
"They didn't realize that it's really high in calories for bears. So people are definitely more aware of that now and putting it away until the winter time when bears are hibernating."
Hawkins adds that keeping your garbage secure will help reduce wildlife encounters with bears, deer, racoons, and even cougars.
All through the year, Hawkins says they're out educating people with door to door canvassing, garbage tagging, public events and presentations, and the Junior Ranger elementary school program.
This year's program comes to an end at the end of this month and will start up again at the end of May.
And as for making improvements for next year, Hawkins says it'll be nice to get some more help, so they can reach areas of the community next season.