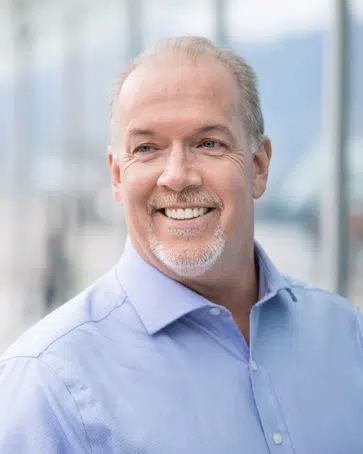 The Premier says the latest events in the ongoing controversy surrounding the Speaker of the House are shocking but he is urging people to let the investigation unfold.
John Horgan at a housing announcement was quizzed by reporters about what he thought of the Speaker, Darryl Plecas, trying to get his friend, and senior political advisor, Alan Mullen the sergeant at arms job.
The request, which was denied by the three party house leaders, took place in a meeting two days before the Clerk, Craig James, and Sergeant at Arms Gary Lenz were suspended and escorted out of the legislature by police.
"Well the first I heard of that was this morning. When I talked to the House leader about that he said he did not advise me of that because it was dismissed immediately by everybody in the room. I believe that the more important question is how quickly can we see a resolution to an RCMP investigation as it involves two special prosecutors."
Horgan says he has every confidence in Mike Farnworth, Mary Polak, and Sonia Fursteneau as the three party House leaders to work with the speaker to chart a path forward.
"It is an extraordinary time without any doubt. I believe that the best way forward is to rely on the professionalism of the current sergeant at arms staff who are doing their work as they always have and the clerk's office."
Horgan says he understand people's concern.
"Obviously I am as concerned as the public. I articulated that on Tuesday. This was a surprise to me. I know the individuals in question and I have been working with them for many many years. This is a shock to the institution and a shock to British Columbians. I take comfort as I said in our ability in this place to carry on and conduct the people's business."
He says the RCMP investigation is impartial and free of interference as it should be.
The speaker's special advisor Alan Mullen announced Thursday afternoon former Attorney General Wally Oppal has been hired as a second special advisor to Darryl Plecas.