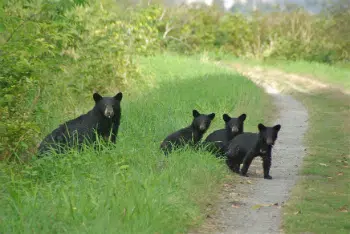 The number of black bears killed in B.C. has taken a dramatic turn for the better.
After announcing his retirement, the Coordinator of WildSafe BC Frank Ritcey says when the Bear Aware program started in 1999, more than 1,000 black bears were being put down annually.
"That number has now dropped to around 600 now," he said. "Not that our goal is to reduce the destruction of bears, but its a barometer of how much conflict we have."
"It shows that people are starting to get it."
Ritcey says a big part of it to ensure your garbage is properly secured.
"That's the number one thing," he noted. "If overnight, everybody learned to keep their garbage in, next year we would have a lot fewer problems."
There are more than 115,000 black bears in B.C.